Duffy's Salmon Charters


Duffy's Salmon Charters has been offering fishing charters from Sooke to Port Renfrew for 30 years. Come fishing with Duff to catch Salmon, Halibut, Bottomfish, Crabs & Prawns ... and lots of fun and adventure.

Boat

24ft. Hourston Glascraft boat with heated cabin, marine head (toilet), and all safety gear up to Dept of Transport standards. Boat is powered by turbo diesel engine & auxillary motor 10hp Suzuki. Electronics on board include GPS, radar, video sounder & VHF marine radio. Fully insured and DOT inspected. Accommodates parties of up to 4 people.

Fishing Gear

Fishing gear includes Shimano single action reels matched with light weight 9 ft Shimano rods. Halibut rods are Shimano matched with level wind Shimano reels. Boat is equipped with 3 electronic Scotty downriggers. All other terminal tackle is provided.

Fishing Seasons

Duffy's Salmon Charters operates year-round.
Nov - March: fishing for winter feeder chinook salmon.
April - October: mature fish, including all 5 species of salmon, return to local waters.
Halibut fishing starts March and carries on through until September pending any in season closures.
Licences sold on board or electronically.
Rates and Policies
Rates are $90 per hour with a 5 hr minimum.
Special rates apply to full day trips or multiple days, please inquire.
Vacuum packing, smoking, and canning services available.
Contact Duffy's Salmon Charters:
Duff Johnston, Owner/Operator
5789 Sooke Rd, Sooke BC, V9Z 0C3
Phone: (250)642-5789 Cell: (250)661-5245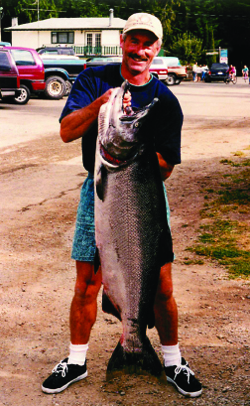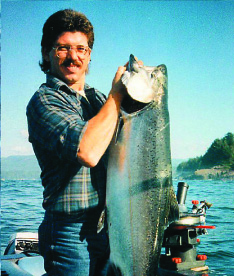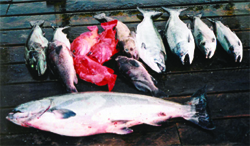 Duffy's Salmon Charters
Duff Johnston
Phone: (250)642-5789
duffyssalmoncharters@shaw.ca